AWARDS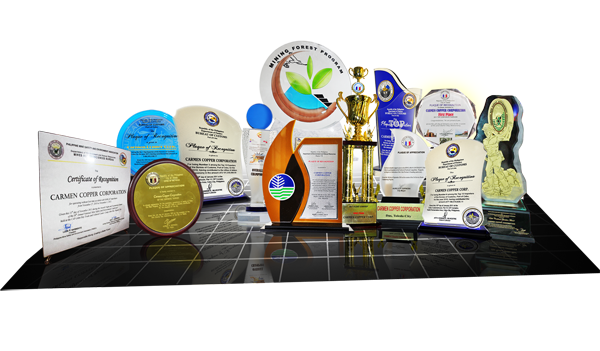 PMSEA Award
Atlas Mining was cited by the Philippine Mine Safety and Environment Association (PMSEA) on November 20, 2013 at the Manor Hotel, Camp John Hay, Baguio City for pioneering the growth and development of the mining industry in the Philippines for the past 60 years.
Best Mining Forest
Atlas Mining's subsidiary Carmen Copper Corp. has been awarded by the Department of Environment and Natural Resources – Mines and Geosciences Bureau (DENR-MGB) for having the Best Mining Forest  (Metallic Category) consecutively for the fifth straight year (2010 – Champion; 2011 – 1st Runner up; 2012- 2nd Runner up; 2013- 1st Runner up; 2014 – 2nd Runner up) during the Annual National Mine Safety and Environment Conference in Baguio City.
Gawad Tugas in Responsible Mining
Carmen Copper Corp. earned DENR's 1st Gawad Tugas in the field of Responsible Mining on June 29, 2015 for having displayed and demonstrated innovation, ingenuity and investment in environmental protection, conservation and management.
Environment Protection Award
Carmen Copper has been recognized by DENR 7 in June 2011 for critically undertaking the protection and enhancement of the environment through serious reforestation, afforestation, and maintenance within its active mining operation area which harmonizes and complements the regional implementation of the National Greening Program.
Mine Safety Award
Carmen Copper has been recognized by PMSEA, DENR and MGB for its outstanding safety performance by achieving 9.606 million consecutive manhours without a lost-time accident from 27 November 2010 to 01 November 2011. It also bagged the Safest Combined Operation Award, in the same year.
Top Exporter and Importer
Carmen Copper has been cited by the Bureau of Customs, Port of Cebu for being one of the Top 10 exporters and importers in the region consecutively for 5 years (2009-2014).
Top Taxpayer
Carmen Copper has been awarded by Toledo City for being the top corporate and real property taxpayers for three consecutive years (2010- 2012).