< Back to News
Atlas Mining and Carmen Copper conduct Operation Tabang, to grant livelihood assistance to Yolanda survivors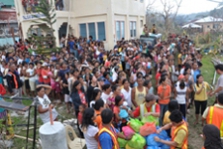 24 December 2013
In the spirit of solidarity and compassion in times of crisis, Atlas Consolidated Mining and Development Corporation (Atlas Mining) and its wholly-owned subsidiary, Carmen Copper Corporation (Carmen Copper) responded to the call for relief assistance and fielded a team composing of employees, members of the Carmen Copper Ladies Association, Inc., and volunteers to the typhoon-stricken towns of northern Cebu in coordination with the Cebu Provincial Government, local government units and the Office of Civil Defense - 7.
More than 7,000 relief packages containing mineral water, biscuits, rice, canned goods and instant noodles together with medicines, vitamins, hygiene kits, clothing and slippers were distributed to victims in the hardest-hit towns of San Remegio, Daanbantayan, Santa Fe, Bantayan, and Madridejos north of Cebu.
Another delivery containing 3,608 bundles of slippers, detergents, bath soaps, biscuits, polythene sheets and ropes was distributed in San Remegio, Santa Fe and Bantayan Island including the remote islet of Panitugan. Some 1,500 children in San Remegio also received kiddie packs that contained candies, chocolate bars and fruit juice.
Three devastated towns in Bantayan Island were given power generator sets and several flashlights to alleviate their total lack of electricity while laminated polythene sheets were provided to families whose houses were destroyed by the typhoon.
The next phase of the Atlas-CCC relief efforts is aimed to restore the livelihood of fisherfolks in Panitugan islet and will focus on replacing their lost fishing boats and gears under the proposed "Adopt-an-Island" project.
According to Mr. Rodrigo C. Cal, Vice President and General Manager of Carmen Copper, "We will ensure that the assistance we are providing to the survivors is not temporary and will be sustainable. We will continue to help them until they are able to get back on their feet." 
Carmen Copper and Atlas Mining have partnered with Outotec, one of its major contractors, in this endeavor. Outotec donated P300, 000 to the company's relief operations last month.