SAFETY AND HEALTH
The Company's safety and health management programs primarily ensure its employees' protection and well-being.  It also covers accident prevention, emergency response, and medical aid outside the borders of the mining complex.
Safety Management
Focused on safe operations every day, a significant headway on safety management has improved considerably in 2014 with the reduction of lost-time accidents from 9 in 2013 to 3 in 2014, with zero fatalities.  This is primarily attributed to a stronger safety leadership and compliance, rigorous enforcement of safety rules and regulations on secure work practices, and the recognition of employee achievements in the promotion of safety targets.
The full implementation of the Permit To Work system in 2014 in all critical activities in the mine and its facilities has greatly contributed to the drop in the number of accidents recorded because it permitted the risks to be addressed through strict implementation of safety procedures and appropriate control measures.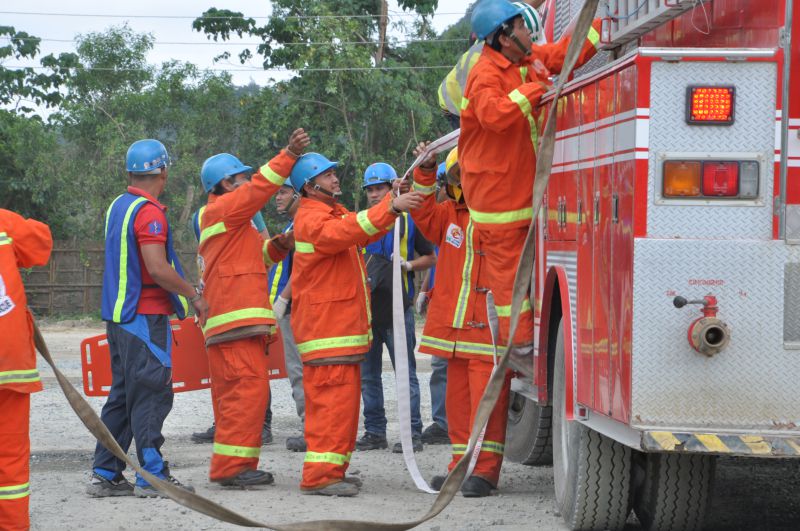 Last Minute Risk Assessment and Traffic and Road Safety are also among the rules that were strictly implemented to promote a safe working environment.
For emergency preparedness, rapid reaction teams which include fire-fighting crew, first aid crew and mine rescue unit are on round-the-clock standby for immediate dispatch in case of accidents and disasters not only inside the mining camp but also in the neighboring barangays and nearby provinces.
Occupational Health
Nestled inside the mining complex is the Carmen Copper Corporation Hospital. It is a 30-bed, Level 1 medical facility equipped with state-of-the-art equipment which provides healthcare services to all employees and their dependents and the community on a daily 24-hour duty. It is also an accredited DOH-PHILCAT Certified TB DOTS Center.
The Hospital's essential service components include emergency and admitting sections, laboratory, pharmacy, nursing services, X-ray, pediatrics, internal medicine, Ob-gynecology, dental services, and ophthalmic services. It has also a fully functional operating theatre that will attend to patients who needs surgical interventions.